Communication is critical to business success.
When you look at business plan formulas and study different models, there are two key ingredients woven through every one of them,   One is the reason for existence, or the corporate mission and vision.  Without a mission, success is hard to define and largely a matter of luck.
The second essential that is critical to whatever plan is put together is communication!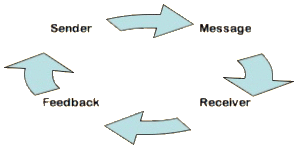 Communication is the thread that is woven into and through the success of any organization.  If it is weak at any level, the message can be lost and the consequences will be seen on the bottom line.  If lines of communication are strong throughout the company, substantial profits can be gained.
Communication starts with the corporate mission.  It should be clear why the company is in business.  This falls on the owner to know the reason for the company's existence and to communicate that vision throughout the entire organization and to the consuming public.  If the ownership has a hard time defining that vision, imagine the impact that has on everyone else involved with the company.
A consistent message must be communicated within and throughout the company, from management to employees and back as part of the culture.  All levels of the organization must sing the same song.  Managers must be open to suggestions from staff, especially those on the front lines of production or customer service.  Staff, especially those involved in sales, have a direct line of communication with customers, so their voices must be heard.  What they can communicate to the organization as feedback from consumers can mean the difference between long-term profitability and going out of business fire sales.
Everyone is part of the same ship and can make the difference between sinking or sailing.  The owner's vision also defines his or her leadership style.
The company must communicate clearly with its customers and potential consumers.  If the customer is getting conflicting messages, often generated by word-of-mouth from other consumers, the likelihood of continued sales goes down dramatically.  Consistency is important in the message delivered to the public, but so is the value of consumer perception, whether it matches the company line or diverges.  Despite what business owners may think, people do talk about companies and ask what makes them different.
The key is to facilitate open and honest communication throughout the organization.